Make a difference in your community and connect with people of different cultures, backgrounds and faiths across Bristol.

Volunteering with Bridges for Communities is a great way to respond to some of the big issues in the world and to do something positive where you live. It's a way of coming in the opposite spirit to the narratives of fear and hate, by connecting with real people and celebrating our shared humanity. It's also an opportunity to develop and enjoy new experiences. You'll connect with people from different backgrounds, learn new skills and share what you know.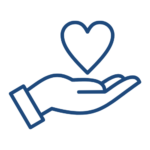 Volunteer
Sign up today to start volunteering or keep reading to find out more.
Volunteer Roles
There are lots of ways you can volunteer with Bridges for Communities, whether you are interested in meeting someone new, sharing your skills or experience, or simply looking to be a force for good in your community.
Befriending
One-to-one support for asylum seekers & refugees.
Volunteers give 1.5 – 2 hours a week to spend time with and welcome an asylum seeker or refugee who is isolated in Bristol. We work with asylum seekers of all nationalities, as well as families who are resettled by the Bristol City Council. We are always looking for new volunteers to become a befriender. Training and support is provided.
(If you have children, and would like to include them in your volunteering, we can often accommodate this on our befriending programme.)
Task Volunteering
Welcoming families who have fled war & persecution.
Volunteers give 1-2 hours a week to support a refugee family with tasks they need to do – supporting them in that task but also guiding them towards independence. For example, helping with forms they need to fill in, and teaching them how to do it themselves next time. Help with job applications, managing appointments, liaising with schools etc.
We are looking for lots of volunteers to join us. Training and support is provided.
Walk With Me
Group walks to support the physical and mental health of people seeking asylum.
We are looking for volunteers to join one or two walks a month to give those seeking asylum the opportunity to meet new people and practise their spoken English, as well as explore new places in Bristol and the surrounding areas. Walks will mostly be on weekends.
Stitching Together
Welcoming spaces where women sew together.
Volunteers help to run weekly sewing classes for refugee women, meeting in central Bristol. Some experience of sewing is helpful, but not essential.
Local Events
We always welcome more volunteers at our events that bring people together from different backgrounds. Events are often at weekends and in school holidays, as well as evenings mid-week. Examples of events include Peace Feasts, Welcome Events and Sharing Festivals.
Training
Training is provided for these roles and covers
Bridges for Communities – What we do and why.
Further information about the different volunteer opportunities.
Guidelines for volunteering, including safeguarding, trauma, confidentiality, culture and language.
Specific guidelines related to the volunteer opportunity you have chosen.
Basic DBS checks and references are required. We pay for your DBS and follow up with your referees.
Dates for upcoming volunteering training are included on the sign up for below.
If you have any questions about volunteering, please contact us using the contact form below.
Volunteer
Sign up for our next training if you want to volunteer with Bridges in Bristol.
Resources
We provide information, videos and resources to help you on your volunteering journey.